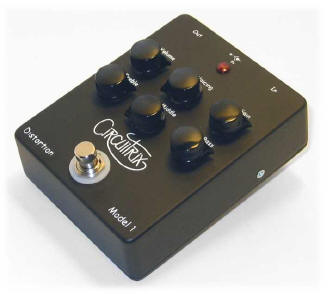 Is your distortion sound lacking attitude? Try the "Model 1 Distortion" from Circuitrix and kick things up a notch! Gain and Volume controls give you plenty of distortion at any volume and a special Voicing control dials in sounds ranging from classic to modern rock. Couple that with a tone circuit that's more flexible than most amps and you've got maximum tone potential. Best of all is its natural sound and feel: you'll swear you're playing through an all-tube signal path!
Features:
Great flexibility - Treble, Middle and Bass controls give you access to a full range of sounds. From smoothly overdriven classic rock to the aggressive bite of more modern styles, it's all here.
Touch responsive - dig in for an aggressive attack or lighten up for a smoother sound.
Great sustain at any gain setting. The Model 1 makes lead playing effortless. Notes pop out easily and hang on forever.
Harmonics and overtones - those "extras" that surround the note and make your guitar sing.
Big sound –lots of output and a chunky low end that will beef up any rig.
High gain – lots of gain for effortless lead playing, but with enough clarity to cut through the mix.
Sounds great through a clean or dirty amp – not many distortion pedals can make that claim.
Great feel – notes feel smooth when they come off the pick, giving that direct connection to the sound that you usually find only with tubes.
Easy to use: – you won't have to play with the thing for hours just to get a good sound. Turn it on, make some fast adjustments and you're already in the zone.
Rugged construction - Solid die-cast aluminum enclosure with silk-screened graphics on a powder coated black background. A classic look that's built for years of hard road use.
Top quality components - Switchcraft

Ò

jacks, polyester coupling caps and other high quality parts guarantee that you're getting maximum tone.
1-year warrantee covers all parts and labor.
1-week money back guarantee. Try it for a week and put it through its paces. If it's not the sound you're looking for, just send it back for a full refund, minus all shipping costs. Price: $198.00 + $6.95 shipping.