You like the sound you have but it lacks punch and definition. You've tried various boxes to fix the problem but they all seem to screw up your tone in the process. If this sounds familiar then look no further, you've found the solution.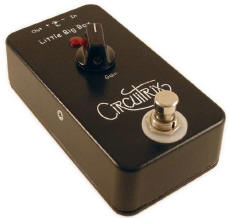 Designed with tone preservation in mind, the "Little Big Box" fattens your sound without disturbing the natural interaction between your guitar and amp. What you end up with is a thicker, richer sound with warmer highs and a lot more punch.
Push your amp into overdrive, punch up your clean channel or add more gain to a vintage lead channel. This great box has a lot of uses and is sure to find its way into your effects set-up.
Features:
Great for blues: pushes your amp for low volume break up in small clubs. Kick it on for solos or leave it on all the time and use your guitar volume to dial in your sound.
Country and jazz players love the percussive attack that it adds to their clean channel - notes seem to pop out of the guitar.
Rock players use it push their lead channels for a little more gain.
Works great when used before digital amp simulators. It fattens the sound and warms things up for a more natural feel.
No distortion from the effect itself, so the natural sound of your guitar and amp is preserved.
Makes your high-end rounder and warmer while thickening your overall sound.
Low current draw for long battery life or use it with a 9-volt AC adaptor (not included).
End-mounted jacks and a small footprint that doesn't take up much room on your pedal board.
Top quality components like Switchcraft

Ò

jacks and film capacitors coupled with rugged metal construction insure a long life on stage.
1-year warrantee covers all parts and labor.
1-week money back guarantee. Try it for a week and put it through its paces. If it's not the sound you're looking for, just send it back for a full refund, minus all shipping costs. Price: $110.00 + $6.95 shipping.